An installation of three giant books, Bookbed proposes the book and library as creative spaces. Complete with mattress and duvet cover pages, the bed features an index of story titles written by young people at Peckham Library.
The artist collaborated with Peckham Library, New Cross Learning and poet-storyteller Sandra Agard on a series of creative writing workshops for young people exploring their dreams and aspirations. With libraries in nearby London boroughs under threat, the artist said:
"Libraries are one of the few meeting points between society and the individual, public and private. However mediated, they represent more than the sum of their parts because they offer us both practical services and the potential for educational and cultural development on our own terms. Like all public services, their value is being scrutinised in financial terms, and I wonder if that symbolic power can ever be measured. Working with young people at Peckham Library – actually a real success story – is an opportunity to use the library as a creative space, and to explore these concepts of the book and library in the collective imagination."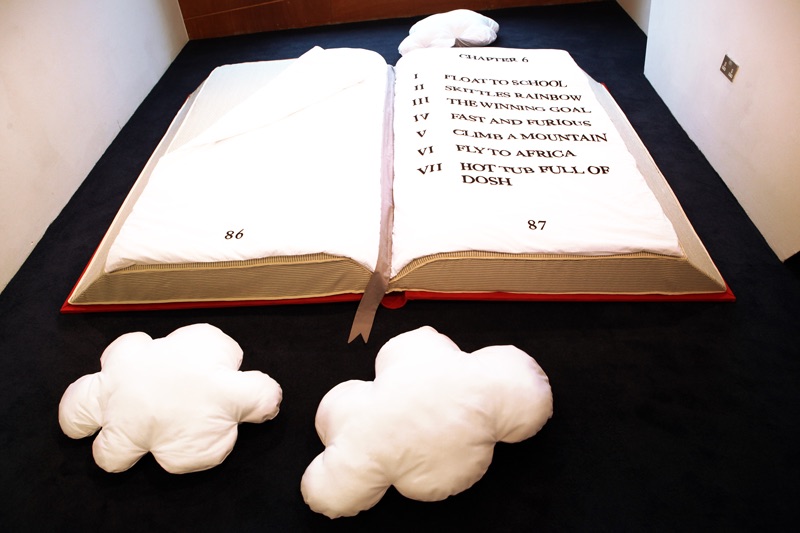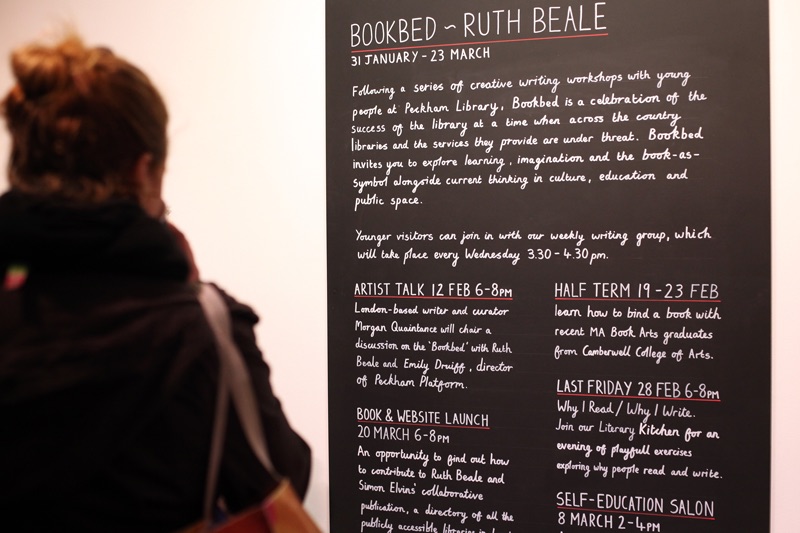 The exhibition includes an Autodidact Library (bookshelves full of "teach yourself" books on science, art, music, the way things work and dictionaries), tools to make simple books and a writing table and space to respond to a weekly writing challenge.
Programmed events explored learning, imagination and the book-as-symbol alongside current thinking in culture, education and public space.
Set design & build: Lorna Ritchie & David Fryer
Feel inspired? Try a Bookbed challenge
The young people involved in Bookbed wrote an index of made-up story titles, including:
Float to School
Hot tub full of dosh
Fly to Africa
Climb a Mountain
Write a story or poem for one of these titles! It must be less than 500 words…