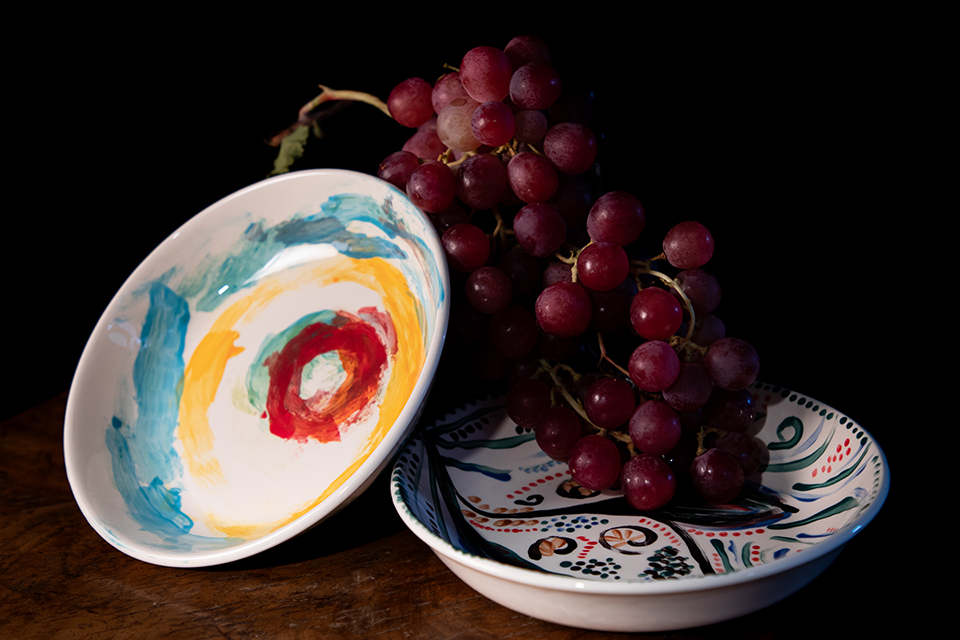 Recipes for Return is an online exhibition of photographs created by Yvonne E. Maxwell, accompanied by an original text by poet Qutouf Elobaid that explores the ways that food in culture maintains community. The bowls were painted by elders from the Golden Oldies group during a workshop exploring the significance of cooking and eating in connection to heritage with artist Linett Kamala. The workshop was held as part of Peckham Platform's Tilting the Mirror project, an intergenerational placemaking programme that uses arts and creativity to develop civic leadership so that residents make meaningful changes to the places they live in by reclaiming and activating community spaces. This programme has generously been supported by The National Lottery Community Fund, the Calouste Gulbenkian Foundation, Esmée Fairbairn Foundation and Local Trust Creative Civic Change. Peckham Platform is able to deliver this programme and many others due to the generous support from Arts Council England.
Recipes for Return
There is a centre, a grounding force, a place for congregation and prayer and truth-telling, and it is almost always a mother's table, worn and tested.
And on the table a tablecloth, sometimes with flowers embroidered on mesh, other times printed on plastic, all to protect the aging wood from food we could only eat with our hands.
And the hands were sometimes spotted and aging, other times soft and growing, all dancing over a single bowl.
And the bowl was sometimes white, and sometimes painted blue, and it was carried over in a barrel, across oceans and times and stories.
And the stories were of great grandmothers who made food one village at a time. Women who owned kitchens and inherited a country that was meant to be left behind.
To sit at a mother's table, not even necessarily yours, is a particularly sanctimonious event. For the children and grandchildren of diaspora, home is a shapeshifter. An elusive place made of memories, generational myths, and a promise of belonging, all of which come true and to life around a mother's table. In our dislocation, food is the only language we didn't lose, our names ingredients for a prayer. Our prayers recipes for return. We train our tongues in the fire and know the word for salt in every dialect. When we eat together, we speak of home like it's not south of everything we know.
This sacred space, where we come to be fed, to be offered that which can only be laboured through love, constantly reminds us of what remains when all else is wavering. In a changing world, where more and more is asked of us everyday, we learn at meal times what it means to only arrive. To yearn for the intimacy of routine, to have a thing be still enough to be taken for granted. What it must mean to be cared for so deeply, or to care so deeply for others, that love is made habitual. Perhaps this refuge is built, and perhaps it is sent down from our grandmothers, but it protects us from hardness all the same. The softness of sharing a single plate is a generosity we are not often offered elsewhere. Not in the quickness of our current capitalism, or in the insult of our fractured history. To be born of this, to be party to it, is home enough for me.