The sound-based artwork is composed of voices, sounds and stories collected during the COVID-19 pandemic in February 2021.
Sound artist, DJ and producer A.G. ran workshops with young people and elders from Peckham to gather this material, including members of Leaders of Tomorrow, Golden Oldies, Black Heroes Foundation and Peckham Park Baptist Church. Together the group shared memories of togetherness, personal histories and hopes for the future.
The resulting soundscape, titled The Message We Bring weaves audio from the online sessions into a playlist of music selected by the group along with experimental recordings and beats.
Over the course of four weeks from 3 – 24 July 2021, Peckham Palms hosted The Message We Bring, forming a space for celebration, performance and workshops with local artists and creators.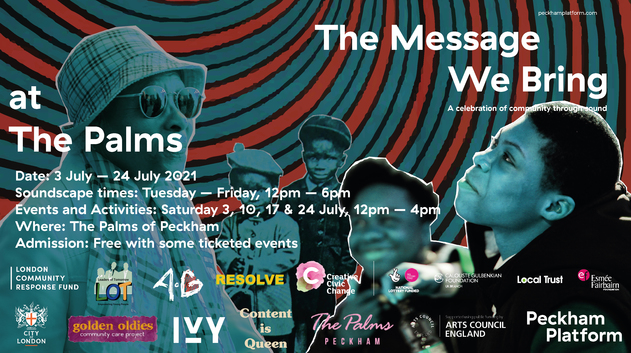 Artist Birungi Kawooya ran workshops in the technique of making simple but impactful collages with African print fabric. Peckham and Madrid based artist Chisara performed an acoustic set with dub-inspired, jazz, hip-hop and indie rock elements and the Resolve Collective created a Pop-Up Library celebrating memories of togetherness and hopes for the future with passers-by. Material focused on peoples' stories and recollections of Peckham and was generated through story-recording activities such as 'emotional mapping' which uses our emotional connections to our neighbourhoods as a way of understanding the city, and 'DIY phonographing' using readily available materials from the home to create makeshift, physical recording devices.